The 2021 Subaru Love Promise Community Commitment Award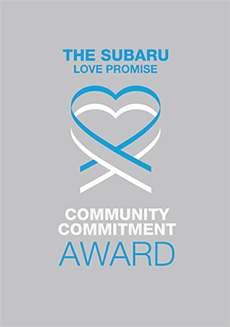 We've been nationally recognized for our dedication to our community and the Subaru Love Promise.
We're honored to receive the 2021 Subaru Love Promise Community Commitment Award. This award nationally recognizes Subaru retailers who are making the world a better place while demonstrating an outstanding commitment to supporting passions and causes in local communities. These efforts are focused in important areas such as the environment, community, health, education, and pets.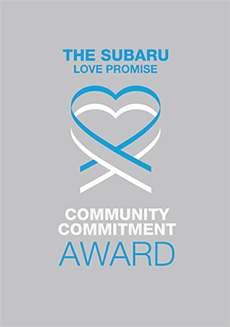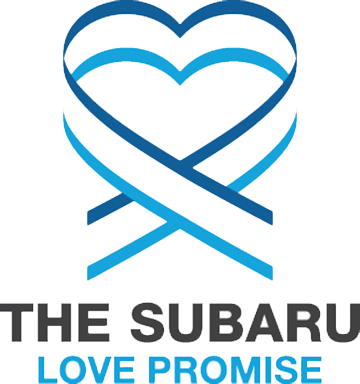 What is the Subaru Love Promise?
Subaru and our retailers believe in making the world a better place and the Subaru Love Promise is our vision of respecting all people. This is our commitment to show love and respect to our customers and to work to make a positive impact in the world.
How is Pape Subaru dedicated locally to the Love Promise?
Our Love Promise can be seen in various partnerships with local charities and non-profits. We're grateful for the opportunity, not only to be a part of our community, but to serve it as well.
United Way, South Portland Food Pantry, Morrison Developmental Center, South Portland Boys & Girls Cl, Make a Wish Foundation
Tri for a cure, Cancer Community Center, Red Cross
Love Promise Stories from Pape Subaru
Subaru and Pape Subaru believe in making a positive impact on the communities in which we live and work. We uphold that belief through our Love Promise Community Commitment. Every month, we select inspiring stories from customers and partners from around our area who strive to support our collective commitment and feature them here
Our Share the Love Story - Dwayne H
We are so fortunate to be the beneficiary of Pape Subaru's Share the Love Event over the past few years. While the SPFC relies on the $0.25, $10.00, $25.00 we also need larger gifts in order to achieve our mission of "Feeding Neighbors in Need". This is where the generosity of "Share the Love" event comes in play. The majority of our Recipient families come from right here in South Portland. "Share the Love" affords us the opportunity to meet the needs of families who come from the surrounding areas as well – all throughout Cumberland and York Counties. Children, Veterans, Senior Adults, Single Parents, Individuals, Immigrants, Asylum Seekers seek the resources of the South Portland Food Cupboard. Each family is served with care and dignity, providing everyone with hope. The recent pandemic caused us to wonder how we were going to be able to meet the need. We wondered from where the funds would come. When Pape Subaru approached us to let us know they wanted to partner with us we felt a sense of peace. We had no doubt we'd be able to meet the need. And we have! Throughout these crazy and uncertain months we were able to provide certainty to an already nervous community. At the end of the day, we don't just load bags of groceries into vehicles. The South Portland Food Cupboard with the support of "Share the Love" provides each Recipient with a vehicle full of dignity and hope. Thank you so very much for your generosity and for giving back to your community.
---
Boys and Girls Club - Mara R
Thank you, Pape for Sharing the Love with Boys & Girls Clubs of Southern Maine (BGCSM). Thanks to your support, we are able to provide hundreds of kids with a safe place to learn, have fun, and grow into great young adults! Since the onset of the pandemic, the Clubs have evolved their programs to meet the needs of the children in the community. BGCSM has provided over 70,000 meals to Club kids and their families since the start of the pandemic, launched a Virtual Clubhouse to engage members remotely, and stayed connected with families through emails, calls, and letters. With the start of the school year, the Clubs pivoted from afterschool to daytime and collaborated with the schools so that K-6 grade students had a place to go on their remote school days. This summer we are returning to more regular BGCSM programming and bringing back all age groups. Pape helps make this possible. In Summer Club 2020, a new first grader from Longfellow School signed up for Boys & Girls Clubs Brain Gain program. At the beginning of the session, she struggled with the Zoom format, waiting her turn to speak, and allowing others to participate. She would get frustrated and cry and required coaching from her lead teacher on using patient listening skills. The group of 10 elementary school students met 3 times a week over Zoom and read, did projects, and went on virtual field trips. Each week, her confidence and comfort grew. She missed only one of the 26 program days all summer and was sad to see the program end. This was not only a success for this youngster, but also for our literacy program and the group's lead teacher.
---
Pro Shop Saturdays - Jacob R
In light of the struggle local restaurants have been experiencing through the past year, one of our employees took matters into his own hands. Jake, our service representative, has donated his time to raise money. Each Saturday for over a month he works at the Cross Arena sharpening ice skates. 100% of the proceeds are donated to local restaurants. The motivation and dedication to our community is something to be very proud of!
---
Make A Wish Maine - Andrea L
The Pape organization and family has been a large part of Make a Wish Maine for many years. Wishes on Tap was put on by the young leader council of Maine. Not only is Pape Subaru and Pape Chevrolet a sponsor of the event, Elizabeth Pape is on the council. Total the event raised over $32,000 directly for Maine a Wish Maine. These wishes provide happiness for families and children is great need of strength. "When a wish comes true, it creates strength, hope and transformation in a child- and a community"
---
United Way - Matt W
Dear Fred, We asked, and you answered our call. Pape Subaru joined other caring, dedicated organizations who are helping to rebuild a more equitable, resilient Greater Portland. In total Pape Subaru raised $45,508 in 2020. This was all possible due to the support of your Employee Campaign Managers, Jayne Campbell, Kathleen Pape McGinley, and Brian Lovering. Your investment in United Way gives people in our area immediate relief as well as the support they need to recover and rebuild their lives. Specifically, your support helps to: 1.) Ensure children get a strong start in life 2.) Put more people on a path towards financial stability through access to educational opportunities, job training, credit counseling, and money management programs; and make opportunities, job training, credit counseling, and money management programs; and 3.) make it easier for individuals to access substance use and mental health services and receive quality health care. The hard work is far from over, but your generosity makes it possible for thousands of people who face health, education, and financial challenges to recover and rebuild their lives for a better tomorrow. Thank you for being UNITED for Greater Portland! With gratitude, Matt Wolcott Senior Vice President, Resource Development and Governance United Way of Greater Portland
---
Stitch - Put his past behind him! - Jeannie F
Stitch, a one year-old terrier mix came to us from our Louisiana rescue partner. He was found with burns down his back and brought to the shelter. It is believed that someone may have put oil on Stitch's back to try to rid him of fleas and this likely caused the burns. Sadly this cruel and misinformed method is something that is occasionally seen in rescue dogs. His rescuers treated his burns and immediately reached out to us at Almost Home Rescue to see if we would help to find this amazing boy a forever home. Stitch is such a happy, sweet and loving boy that just wanted a family to love him in return. Despite what Stitch has been through, his love and trust of people is amazing! His sweet smile matches his loving personality and wins the hearts of everyone he meets. Stitch was adopted almost immediately by a family that could see his love of life, his joy and affection for everyone he meets. Stitch has fittingly been re-named Rumi (meaning beauty in Japanese) and continues to thrive in his home. He will always have scars from his past, but his heart is so true and so full of love. We are so happy that Rumi has found his forever home and is living his best life!
---
Pape Children's Charity - Pape S
2020 marks the fourth annual Pape Children's Charity, where Pape Subaru and Spurwink work together to help make Christmas extra special for those in need. They provide the wish lists from local families, and we provide the gifts! This year, we received wish lists from 30 different families, totaling to 128 individual wish lists (including 2 dogs)!! With the generosity of employees, organizations, family, and friends, we were able to full fill each and every wish list!
---
Tri Harder- Pape team - Beth W
Although Maine Cancer Foundation's 13th Annual Tri for a Cure was a little different this year, we were very excited to participate for our fourth year as a Pape Subaru Team! Athletes adapted to the current conditions by participating individually while sharing their experience virtually! The race includes a 15-mile bike, 3-mile run and a 1/3rd-mile swim! Pape Subaru had a team of 8 members who raised $5,305 for Maine Cancer Foundation. 100% of the funds stay in Maine to support cancer prevention, screening, and access to care programs. Overall, this year's event raised over $1.27 million!! Congratulations to the athletes and thank you to all those who donated!! Cancer tries but we TRI harder!!
---
Pape Subaru loves Pets - Elizabeth L
Subaru Loves Pets Month led to the adoption of a Pape's newest family member, Smokey! Each October Pape Subaru collects pet supplies to donate to a local animal shelter! When it came time to deliver the donations, one team member fell in love with each dog in the shelter and was inspired to bring one home herself. It didn't take much time until Smokey caught her eye. This lab hound mix with a heart as big as his ears was a perfect match. Smokey has been a part of the Pape family for almost a year now!
---
Tri for a Cure - Larry S
On July 15th, 2019 Pape Subaru and members of our staff participated in the 11th annual Tri for a Cure event to benefit cancer research. Maine's only all women triathlon was founded in 2008. The event is sponsored by the Maine Cancer Foundation and hosted by Southern Maine Community College. Each year, the race starts with cancer survivors and women currently battling cancer swimming first. The day is filled with extraordinary camaraderie as each participant has their own personal reason for participating. This year the event raised over two million dollars collectively! On July 19th, Pape Subaru proudly sponsored our team of brave participants. Six amazing women completed the triathlon, which encompassed a one third mile swim, fifteen mile bike ride and a three mile run. Our wonderful team immersed themselves in the true spirit of the event and, as a team, collected $22,150 for the event. We are incredibly proud of the effort and community pride our team of champions demonstrated. The event was kicked off with a catered party held at Pape Subaru that brought together race participants, sponsors and cancer survivors. This gave us a true glimpse at how important it is to support the battle against this insidious disease. Pape Subaru also selected Tri for a Cure as our Share the Love hometown charity and presented the organization with an additional check for $24,786. Pape Subaru is so very proud of our staff and honored to be a part of the fight against cancer.
---
Part of the Pape Subaru Family - Julia B
Many thanks to Pape Subaru for choosing Maine Cancer Foundation as your 2019 Share the Love Event Hometown Charity Partner. Because of your support, $24,786 will help all across Maine to prevent cancer before it starts, detect cancer when it's most treatable and beatable, and find access to the best possible care! That is the equivalent of 496 colon cancer screening tests or over 700 rides for a patient traveling from Calais to Bangor for care. We are so grateful to the Pape Subaru family and look forward to seeing you again at our 2019 Tri for a Cure, too. Not only do you sponsor this special fundraiser, but your employees come out in force to participate and last year raised over $5,000! You make us feel like part of the Pape Subaru family!
---
Kellan's Wish Maine - Alex G
We wanted to take this opportunity to send our sincerest thanks to everyone at Pape Subaru for supporting the 201 6 Share the Love Event. As you know, Make-A-Wish was one of the four national charities that benefitted from Share the Love last year, but what you might not realize is that Make-A-Wish Maine, right here in your neighborhood, receives the funds raised locally. These funds are used to help grant wishes for kids like Kellan, a spirited 3-year-old who has to navigate the world in a wheelchair wished to have a path from his house to their barn so he could spend more time with his dad.
---
Making A Difference - Dwayne H
This is the story of a man and his family who immigrated to Maine. Because of his immigration status he was unable to be employed. He was required to work volunteer hours in order to fund his rent payments. He became a vital part of the South Portland Food Cupboard (SPFC). Here, he not only worked his hours, and benefited from the food distribution, he also received support in learning English as well as getting his driver's permit (after 11 attempts). Today he is employed and does not rely nearly as much on the resources and support of the SPFC. Thank you Pape Subaru for your support. You not only made this difference a possibility, you helped make it a reality. We look forward to partnering with you in "Share the Love" 2017/18.
---
Make-A-Wish Maine - Make-A-Wish M
Dear Pape Subaru, We have recently learned of the incredible success of the Share The Love campaign. The Subaru dealers of Maine raised 10,815.77 for Maine Children with life-threatening medical conditions!!! We can't thank you enough for your support. In March, we received our highest number of qualified referrals in one month and have more children awaiting a wish than ever before. We will be putting the funds to great use in Maine. Thank you for supporting us! Rebecca Leaming Development Manager
---
THE SOUTH PORTLAND FOOD CUPBOARD - South Portland F
South Portland, ME, April 2, 2014 - Subaru of America, Inc. ("SOA") and Pape Subaru presented a check to The South Portland Food Cupboard who was a partner in the 2013 Subaru "Share the Love" event. From Nov. 21, 2013 to Jan. 2, 2014, customers who purchased or leased a new Subaru vehicle could select from a list of charities to receive a donation of $250 from SOA. This year, Subaru of America, Inc. donated $10 million to participating charities. Over the last six years SOA has donated $35 million to a number of worthy causes through the "Share the Love" event. SOA selected the five national charities: ASPCA®, Make-A-Wish®, Meals On Wheels Association of America®, National Park Foundation and Teach for America. Subaru retailers could also elect to add a sixth, local charity and Pape Subaru selected The South Portland Food Cupboard as its local partner. The check for $15,958.25 was presented to The South Portland Food Cupboard by Frederick W. Pape, III, Dealer Principal, Owner Pape Subaru. This year we are, again, proud partners in "Share the Love" event. Funds received from "Share the Love" event will fund the vision of "Feeding Neighbors In Need." The combined effort will result, in effect, Loving Your Neighbor. Thank you, Subaru of America, Pape Subaru and all who make the $250.00 per purchase/lease possible.
---
United Way of Greater Portland - Beau M
Pape Subaru is proud to be part of United Way of Greater Portland helping to improving thousands of lives by focusing on the building blocks of a stronger community: education, income and health. United Way of Greater Portland continues to ensure quality essential services, like affordable childcare, mental health counseling and elder care, and we also bring people together to help identify growing community needs and work toward innovative solutions with measurable results. United Way believes that when they reach out a hand to one, they influence the condition for all. How? People can GIVE, ADVOCATE and VOLUNTEER to improve lives in Greater Portland. LIVE UNITED Learn more about how United Way of Greater Portland advances the common good through initiative work.: 2-1-1 Maine Collective Impact Education Financial Stability Health Donate Now! The United Way of Greater Portland 2015 Finale Celebration would like to thank everyone who has been part of the campaign, and to everyone LIVING UNITED. Pape Subaru is proud to announce Neil Gilbert as the Pape Vehicle Winner!!!
---